"Loess Hills Audubon Society is a Chapter of National Audubon Society, Inc."
Last Month's Bird Of The Month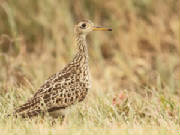 Upland Sandpiper
A shorebird of grasslands, not shores, the Upland Sandpiper inhabits native prairie and other open grassy areas in North America. Once abundant in the Great Plains, it has undergone steady population declines since the mid-19th century, because of hunting and loss of habitat. Food includes mostly insects, including weevils and other beetles, grasshoppers, and crickets and also some weed seeds. Often lands on fence posts raising its wings after landing. Song a long series of mellow notes, starting with a gurgling rising trill and ending with a long descending whistle; final whistle sounds to some like a "wolf-whistle." Flight call is a bubbling "quip-ip-ip-ip-ip-ip-ip-ip." Begins southward migration unusually early, beginning in mid-July. It spends up to eight months of the year in its winter home in South America, during the austral summer. Can be found locally in areas around Owego Wetlands and Sgt. Bluff Sod Farm.