March 2018 Bird Of Month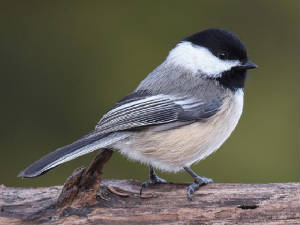 Black-capped Chickadee
Chickadees are active, acrobatic, curious, social birds that live in flocks, often associating with woodpeckers, nuthatches, warblers, vireos, and other small woodland species. Chickadees are one of the easiest birds to attract to feeders, for suet, sunflower, and peanuts. They peck a hole in the shell, and then chip out and eat tiny bits of seed while expanding the hole. Because small songbirds migrating through an unfamiliar area often associate with chickadee flocks, watching and listening for chickadee flocks during spring and fall can often alert birders to the presence of interesting migrants. Chickadee calls are complex and language-like, communicating information on identity and recognition of other flocks as well as predator alarms and contact calls. The more dee notes in a chickadee-dee-dee call, the higher the threat level. They are easily seen at many feeding stations, and in virtually any area with trees.

Loess Hills Audubon Society meets at the Dorothy Pecaut Nature Center, 4500 Sioux River Road the first Thursday of the month during the months of October thru May at 7:30 P.M. The first meeting of the year is the annual potluck at Stone Lodge in Stone State Park at 6:00 P.M.

Each of these meetings includes a quality program of various subjects. The public is invited and welcome to attend these meetings. Check the Meetings Page for information on upcoming programs.

Birding outings occur monthly. The public is invited and welcome to attend these outings. Check the Outings Page for information on upcoming outings.

Loess Hills Audubon Society
PO Box 5133
Sioux City, IA 51102 http://lhas.tripod.com/

"Loess Hills Audubon Society is a Chapter of National Audubon Society, Inc."

Last Month's Bird Of The Month



American Tree Sparrow

Plump and long-tailed, American Tree Sparrows are busy visitors in winter backyards and weedy, snow-covered fields across southern Canada and the northern United States. Hopping up at bent weeds or even beating their wings to dislodge seeds from grass heads, they scratch and peck the ground in small flocks, trading soft, musical twitters. Come snowmelt, these small rusty-capped and smooth-breasted sparrows begin their long migrations to breeding grounds in the tundra of the far North. In summer, American Tree Sparrows breed near the northern tree line, where straggling thickets of alder, willow, birch, and spruce give way to open tundra. Though some American Tree Sparrows nest in open tundra, most territories include at least a few small trees that the males can sing from, along with a source of water. During the winter months, they can be found locally in places like the Owego wetlands.