"Loess Hills Audubon Society is a Chapter of National Audubon Society, Inc."
Last Month's Bird Of The Month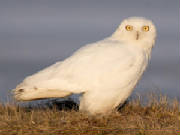 Snowy Owl
Thick feathers for insulation from Arctic cold make Snowy Owls North America's heaviest owl, typically weighing about 4 pounds. They spend summers far north of the Arctic Circle hunting lemmings, ptarmigan, and other prey in 24-hour daylight. In years of lemming population booms they can raise double or triple the usual number of young. Unlike most owls, Snowy Owls are diurnal and they'll hunt at all hours during the continuous daylight of an Arctic summer. They may eat more than 1,600 lemmings in a single year. Both sexes, but particularly the males, make low, powerful, slightly rasping hoots. They're often given two at a time but may include up to six hoots in a row. These can be heard for up to 7 miles on the tundra, and other owls often answer with hoots of their own. Snowy Owls do a lot of sitting. They sit still in the same spot for hours, occasionally swiveling their head or leaning forward and blinking their big, yellow eyes to get a closer look at something. During irruptive years, which may be attributed to lemming cycles farther north, they can flush south throughout the lower 48 states and are a bird that can get even non-birders to come out for a look.