BIRD OF THE MONTH!
August 2014 Bird Of Month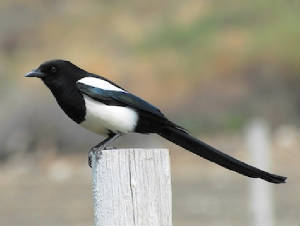 Black-billed Magpie
Black-billed Magpies are familiar and entertaining birds of western North America. They sit on fenceposts and road signs or flap across rangelands, their white wing patches flashing and their very long tails trailing behind them. This large, flashy relative of jays and crows is a social creature, gathering in numbers to feed at carrion. They're also vocal birds and keep up a regular stream of raucous or querulous calls. Black-billed Magpies are slightly larger than jays with much longer, diamond-shaped tails and heavier bills. In flight, their wings seem to be too short to support their graceful flight. Black-billed Magpies are social, inquisitive birds that eat fruits, grains, insects, small animals, and frequently gather in large flocks at carrion. Magpies move in groups and give a variety of trill, cackle, and whistle calls. They flap steadily in flight, alternating deep and shallow wing beats, and use their very long tails to negotiate abrupt turns. Being on the eastern edge of their range, this bird is not normally seen in Iowa except for a small population that has established itself in the Broken Kettle Grasslands in Plymouth County.

Loess Hills Audubon Society meets at the Dorothy Pecaut Nature Center, 4500 Sioux River Road the first Thursday of the month during the months of October thru May at 7:30 P.M. The first meeting of the year is the annual potluck at Stone Lodge in Stone State Park at 6:00 P.M.

Each of these meetings includes a quality program of various subjects. The public is invited and welcome to attend these meetings. Check the Meetings Page for information on upcoming programs.

Birding outings occur monthly. The public is invited and welcome to attend these outings. Check the Outings Page for information on upcoming outings.

Loess Hills Audubon Society
PO Box 5133
Sioux City, IA 51102 http://lhas.tripod.com/

"Loess Hills Audubon Society is a Chapter of National Audubon Society, Inc."

Last Month's Bird Of The Month

July 2014 Bird Of Month


Orchard Oriole

The Orchard Oriole swaps the typical flame-orange of other orioles for a deep, burnished russet. Hopping among riverine shrubs or scattered trees, male Orchard Orioles sing a whistled, chattering song to attract yellow-green females. The smallest of North America's orioles, it gleans insects from foliage and builds hanging, pouchlike nests during its brief breeding season, and then heads back to Central America for the rest of the year. Orchard Orioles also feed on fruit and nectar in orchards, gardens, and elsewhere. Orchard Orioles spend summers in open woodlands and areas of scattered trees across the eastern United States and southern Canada. Look for them along river edges, in pastures with scattered trees, and in parks and orchards. Adult males are black above and rich reddish-chestnut below. They have a black head and throat, with a reddish-chestnut patch at the bend of the wing. Females are greenish yellow with two white wing bars and no black. Immature males look like females, but have black around the bill and throat. This species is commonly seen and heard at the Owego Wetlands in our area.