BIRD OF THE MONTH!
July 2014 Bird Of Month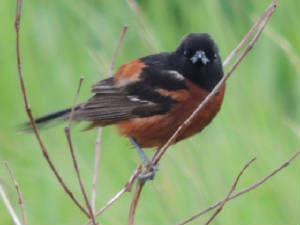 Orchard Oriole-By Jan Null
The Orchard Oriole swaps the typical flame-orange of other orioles for a deep, burnished russet. Hopping among riverine shrubs or scattered trees, male Orchard Orioles sing a whistled, chattering song to attract yellow-green females. The smallest of North America's orioles, it gleans insects from foliage and builds hanging, pouchlike nests during its brief breeding season, and then heads back to Central America for the rest of the year. Orchard Orioles also feed on fruit and nectar in orchards, gardens, and elsewhere. Orchard Orioles spend summers in open woodlands and areas of scattered trees across the eastern United States and southern Canada. Look for them along river edges, in pastures with scattered trees, and in parks and orchards. Adult males are black above and rich reddish-chestnut below. They have a black head and throat, with a reddish-chestnut patch at the bend of the wing. Females are greenish yellow with two white wing bars and no black. Immature males look like females, but have black around the bill and throat. This species is commonly seen and heard at the Owego Wetlands in our area.

Loess Hills Audubon Society meets at the Dorothy Pecaut Nature Center, 4500 Sioux River Road the first Thursday of the month during the months of October thru May at 7:30 P.M. The first meeting of the year is the annual potluck at Stone Lodge in Stone State Park at 6:00 P.M.

Each of these meetings includes a quality program of various subjects. The public is invited and welcome to attend these meetings. Check the Meetings Page for information on upcoming programs.

Birding outings occur monthly. The public is invited and welcome to attend these outings. Check the Outings Page for information on upcoming outings.

Loess Hills Audubon Society
PO Box 5133
Sioux City, IA 51102 http://lhas.tripod.com/

"Loess Hills Audubon Society is a Chapter of National Audubon Society, Inc."

Last Month's Bird Of The Month

June 2014 Bird Of Month


Yellow-billed Cuckoo

Yellow-billed Cuckoos are slender, long-tailed birds that manage to stay well hidden in deciduous woodlands. They usually sit stock still, even hunching their shoulders to conceal their crisp white underparts, as they hunt for large caterpillars. They forage slowly and methodically in treetops for large, hairy caterpillars and their slow approach can make them hard to find. Bold white spots on the tail's underside are often the most visible feature on a shaded perch. Fortunately, their slow, rolling, guttural calls are very distinctive. They fly in a straight path using sharp wing beats with a slight pause between them. Their rufous primaries are striking in flight. They live mainly among the canopies of deciduous trees. Look for them in woodland patches with gaps and clearings. Two of these birds were found in our area at the Owego Wetlands town site in late May. It is a real treat to see them since it seems they are harder to find around here every year.