"Loess Hills Audubon Society is a Chapter of National Audubon Society, Inc."
Last Month's Bird Of The Month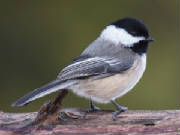 Black-capped Chickadee
Chickadees are active, acrobatic, curious, social birds that live in flocks, often associating with woodpeckers, nuthatches, warblers, vireos, and other small woodland species. Chickadees are one of the easiest birds to attract to feeders, for suet, sunflower, and peanuts. They peck a hole in the shell, and then chip out and eat tiny bits of seed while expanding the hole. Because small songbirds migrating through an unfamiliar area often associate with chickadee flocks, watching and listening for chickadee flocks during spring and fall can often alert birders to the presence of interesting migrants. Chickadee calls are complex and language-like, communicating information on identity and recognition of other flocks as well as predator alarms and contact calls. The more dee notes in a chickadee-dee-dee call, the higher the threat level. They are easily seen at many feeding stations, and in virtually any area with trees.