"Loess Hills Audubon Society is a Chapter of National Audubon Society, Inc."
Last Month's Bird Of The Month
August 2014 Bird Of Month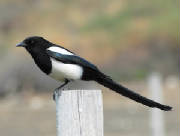 Black-billed Magpie
Black-billed Magpies are familiar and entertaining birds of western North America. They sit on fenceposts and road signs or flap across rangelands, their white wing patches flashing and their very long tails trailing behind them. This large, flashy relative of jays and crows is a social creature, gathering in numbers to feed at carrion. They're also vocal birds and keep up a regular stream of raucous or querulous calls. Black-billed Magpies are slightly larger than jays with much longer, diamond-shaped tails and heavier bills. In flight, their wings seem to be too short to support their graceful flight. Black-billed Magpies are social, inquisitive birds that eat fruits, grains, insects, small animals, and frequently gather in large flocks at carrion. Magpies move in groups and give a variety of trill, cackle, and whistle calls. They flap steadily in flight, alternating deep and shallow wing beats, and use their very long tails to negotiate abrupt turns. Being on the eastern edge of their range, this bird is not normally seen in Iowa except for a small population that has established itself in the Broken Kettle Grasslands in Plymouth County.