"Loess Hills Audubon Society is a Chapter of National Audubon Society, Inc."
Last Month's Bird Of The Month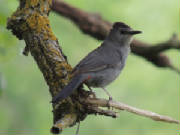 Gray Catbird by Jan Null
If you're convinced you'll never be able to learn bird calls, start with the Gray Catbird. Once you've heard its catty mew you won't forget it. Follow the sound into thickets and vine tangles and you'll be rewarded by a somber gray bird with a black cap and bright rusty feathers under the tail. Gray Catbirds are relatives of mockingbirds and thrashers, and they share that group's vocal abilities, copying the sounds of other species and stringing them together to make their own song. Catbirds are secretive but energetic, hopping and fluttering from branch to branch through tangles of vegetation. Catbirds are reluctant to fly across open areas, preferring quick, low flights over vegetation. Catbirds from across North America spend winters along the Gulf Coast from Florida through Texas and all the way down Central America and the Caribbean. Found locally at Bacon Creek and Stone Park.